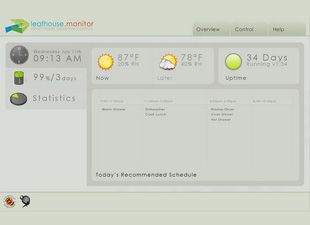 In order to control the environment of the house, the LEAFHouse is equipped with a Smart House Adaptive Control System (SHAC). This system gives the occupants the ability to interact with the house and track the house's conditions from a web based interface. The conditions can be viewed in real time and adjustments can be made in order to optimize:
energy use
humidity
light
water consumption
SHAC continually monitors interior lighting levels and responds to environmental conditions by balancing electric lighting with natural light. This system helps control energy usage and enhance the user's experience in the house.
SHAC allows the house to be maintained efficiently and economically through its automated control system that performs tasks and monitors the house based on collected data.