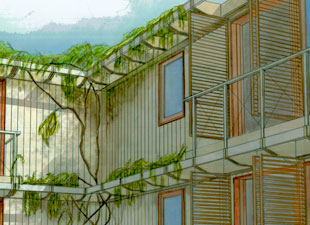 LEAFHouse's organization is so flexible, it is adaptable to multiple units and communities, different local site conditions and population densities. The resulting designs encompass a variety of lifestyles from single family homes to apartment complexes.
Urban Villa
LEAFHouse forms the core of a two-story zero-lot-line private home. Add a wing on one or two floors to accommodate a growing family or home business. The private courtyard is a sunlit urban oasis, while the front yard presents a lush exterior.
Townhouse
The LEAFHouse principles of open plan, flexibility and abundant natural light carry through even in a three-story adaptation. The base is a first-floor flat with backyard. One flight up is a two-bedroom plus den townhouse. Blocks that are oriented to the sun carry PVs and solar hot water tubes on the roofs.
Garden Flats
The versatility of LEAFHouse is revealed as a small one-bedroom flat or a larger, two-level duplex apartment. Thirty-five flats share a large courtyard with private outdoor space, community gardens and a promenade. The building is stepped to allow south-facing courtyard units to receive the sun.