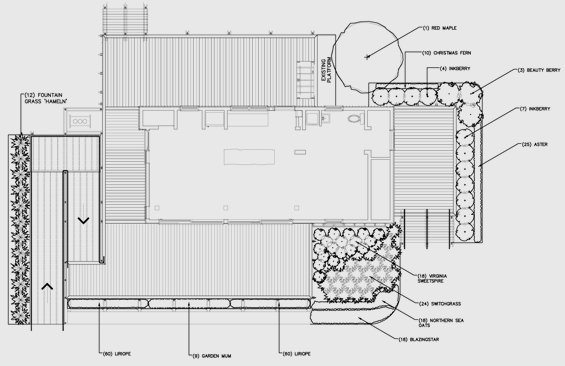 LEAFHouse and its site are intimately linked, through openness from inside to outside, abundant daylight, and integrated water management strategies.
From anywhere in the house, the homeowner has views of the surrounding landscape that connect her with the movement of the sun, the changing weather, and the passing seasons. Diffuse natural daylight illuminates the house. Windows and doors are placed to encourage breezes, further connecting inside with outside.

The "building integrated storm water management system" is a vertical rain garden on the south side of the house. This green wall of plants is not only aesthetic, it also filters rain-water from the roof and feeds the adjacent grey-water garden. In its final location, LEAFHouse will be further tied to the site via a grey-water system that filters internal washwater for re-use in the garden.

Outdoors, the south and north sides of the house take on unique characters, based on their orientation to the sun. The south has a spacious deck with strong connections to the living room. It is a place to socialize, a front porch. The north is more private and intimate, a shady place for hot summer days. The desiccant regenerators, solar power inverter, and condenser all help to shape the spaces on this side.